Terms of Service
---
Overview:
EntityScript.com is managed by a small team of web developers and by being here you agree that it is possible that not all of the features on this site may work as well as they may under the umbrella of a large corporation, or government agency. The site is being updated all of the time in an adhoc way and is a creative project of New Entity Operations Inc. to express the companies creative ideas. Sometimes this inspiration is planned and other times it occurs randomly. The site is updated according to that methodology.
Security and safety here are still important to us. For this reason, we enable HTTPS browsing by default and also do not set a tracking cookie of any kind. If we decide to set one in the future, it will only be to better serve the content of the website, not to track you around the Internet.
All material presented here is:
Copyright © 2020-2023 New Entity Operations Inc.
Alpha logo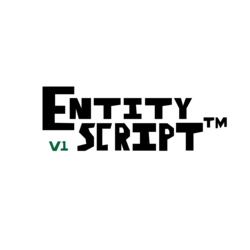 About the management of this site:
The only web administrator of this site is a representative appointed by New Entity Operations Inc. At the moment, that representative is Ryan McKenna. At any time, he may appoint another Admin to help deliver the site and express his creativity or the creativity of New Entity Operations Inc. and any of their desired affiliates. Ryan does not work on the server through public wi-fi or other public connections, but may do so on private hotspots or personal Internet access points. The site uses Linux as a server and makes use of available software such as Python, HTML, CSS, JavaScript, and other open source software projects.
Being clear about your use of this site:
You use this website without any sort of warranty expressed or implied to you in any form. This is meant to be a creative website and when you see something here it should not be taken in a literal sense, but in a creative sense. The site is for entertainment purposes and to facilitate engagement to New Entity Operations Inc. software products. Since this is a creative site, the work presented here may be subject to copyright and in some cases will even be covered by a registered copyright of the United States of America. The registered software and visual copyrights presented here are not always clearly marked, so we ask that you do not reproduce this work in any capacity elsewhere for any reason besides indexing the site. If you do use a web crawler to index the pages of this site, that's okay, but using a web crawler to index the site for the purpose of reposting it in an archive in the exact format displayed here with or without additional code inserted into the pages, or to recreate it according to your own creative desires, is not permitted. To repost this website in a similar manner to the way it has been presented here requires a license. If you don't honor this term, you must pay a licensing fee and have a defined agreement with the website owner. The fee must be agreed upon before you partake in the activity of presenting this website elsewhere, or it will be assumed you're paying the standard copyright fee of $1,200,00.00 USD, plus a yearly license fee of $250,000 USD. If you don't have a license to use the material on this site, do not use it. Ryan McKenna is responsible for granting licenses to the site and is willing to do so for various kinds of shared-use situations. To summarize, you need a written agreement to repost this site in a simlar form to what has been presented here and additional posting of the material here must be discussed and signed off on by Ryan McKenna beforehand. This type of license is something that can be attained only through direct negotiation with the copyright holder, New Entity Operations Inc. or the representative they use, Ryan McKenna. The copyright holder can also terminate your license at any time and charge you the standard fee if an agreement doesn't define any type of terms for you reusing the site for your own purposes. For this reason, it is best to seek clarity and get a detailed legal agreement with the website owner and copyright holder before using the content that's presented here for your own purposes.
How this site is governed:
This site is governed by the laws of the United States of America. If you're accessing this site from outside of the USA, you agree to be governed by the laws in the UNITED STATES of AMERICA while accessing any content that originated here or in another location that was from this website. You don't have the right to engage in litigation against the site in your originating country and if that is your intent, please do not use this website and exit it now. The website also has a right to settle any disputes in the state of Delaware.
More about the site:
This site is meant to be interpreted as entertainment only. Being an entertainment website, not everything here may be appropriate for all types of audiences, but generally, this sites content is rated: Safe for Kids. If there is mature content presented here, it will be marked accordingly and restricted in an appropriate way to comply with most minor-centric laws across the world.
IP presented on the site
Trademarks displayed here that are not owned directly by EntityScript.com or New Entity Operations Inc., are not further licensed to the visitors of this site in any way. The same goes for trademarks presented that are owned by the site, the representative of the site, or New Entity Operations Inc. If you wish to use trademarks on this site, you must clarify those terms with the original Trademark owner beforehand. We make no warranty about other parties IP, including copyright or Trademarks - even something that may be covered by a patent would fall into this acknowledgement. Any trademark that is directly owned by this website may have limited uses available and you should contact New Entity Operations Inc. or Ryan McKenna before using them elsewhere. If you see the ™ sign - assume that you are not permitted to reuse this phrase elsewhere for your own creative desires or purposes.
These additional terms also apply.
At any time this site has the right to ban you for automated requests in the form of web-crawlers scraping the site to create exact backup copies of what is presented here, or engaging in data-harvesting. We will also block you if you use an automated program to make POST requests to the site. These "bots" can also be restricted directly in the robots.txt file, but a specific web crawler or web-posting bot not being in that file does not mean you have the right to continue engaging in those practices that consume our servers resources for an invalid use - the use of this site is to present New Entity Operations Inc. software. Indexing the site is okay, but reproducing the site is NOT okay.
General misuse of this site is enforced by the site owner and appointed web managers. These managers may change from time to time or without notification. Misuse of this site may arise in clear or sometimes hard to understand ways, so occasionally a full "high-level" block of your IP address will result from something that may seem arbitrary to a visitor. We reserve the right to make these types of judgement calls and do so when required.
There may be ideas presented on this site that are the copyright of another party, or that are owned by someone else but have been provided here under a general understanding of shared use. When someone else has their content shared here, as the copyright holder, they will have the right to take it down through formal means in our appointed representatives CONTACT RYAN MCKENNA section by selecting 'copyright notice'. Without expressed permission from the site owner, do not reproduce this websites content according to your own creative desire. This means that a visitor of this website doesn't have the right to reproduce the collections of software or visual presentations made available here in any way. This same standard is also applied to the essence of the ideas presentated across the site. This site explicitly bans the inclusion of text from this site in the training of robotic or generative machine language learning models (LLM). Anyone engaging in this will be subject to the standard fee and may be required to cease the behavior and also destroy any past trained models that include our material. This doesn't apply to factual information aquired elsewhere in the public domain, but it does apply to all the text here that is original or creative in nature regardless of it was aquired here or elsewhere in the public domain without our consent. This includes blog posts, programs, overviews, code, visuals, and collections. The same applies to our photos - none are to be included in any generative model training of any kind without permission.
There may be a cookie set on this site, but we do not set a cookie to all visitors - if we determine that you must be blocked for misuse of the site, we may set a cookie. We do our best to limit the information we collect and store to that of data resulting from your usage while visiting. By interacting with our servers, you agree to this standard. Other pieces of information may also need to be collected to operate and manage the website or adhere to local laws. You also agree to this possibility.
The New Entity Framework™ doesn't allow anyone to use a protected portion of this website without permission. If you have a special key on your computer, certain features on the site will be unlocked without your input. When you have a key-available you agree that it is discoverable by the website and that we can provide additional features based on the validity of the provided key.
By using this site, you agree to not tamper with security mechanisms here or on the server. This applies to both experimentation and by doing so in adhoc means for your own enjoyment or learning. We support web security practioners, but this isn't a site to facilitate your learning - this is a site to facilitate the enterainment provided by New Entity Operations Inc. including the code and visuals that make up that entertainment.
If security is what you do and you notice anything funny and "matter of fact" that may be wrong, contact Ryan McKenna with your ideas and they may be implemented.
Because of the nature of the user portion of this website, it is possible that even when you've been granted access to additional site features through a valid key, you may be offended by what someone has to say or share. If you're not able to engage in productive discourse regarding the topics discussed, and you're not willing to use the site to create a tolerant atmosphere, please, leave the site and try another community.
All content on this site was developed from scratch by Ryan McKenna. He used a variety of appropriately licensed software products, such as Python and some of the languages addon packages to build the site. The site also relies on Linux to facilitate server behavior. We make no warranty about these tools or systems being safe or fit for use and by using this site you agree to waive any claim against the website operator and our admins resulting from security or other unforeseen problems that may arise with those products.
Any photo content that's downloaded on the site that is outside a designated "photo gallery" .zip and .gz files is not owned by the downloader and a copyright grant isn't made when you download these images.
We may ammend these Terms of Service in the future at any time and when we do, you will have to agree to the updated terms before continuing to use our services.
UPDATED: 2023/03/10
With dedication, we are humbly at your service.
Produced in the United States of America, by New Entity Operations Inc.